Everton Village History
Everton is not to be confused with Everton-cum-Tetworth in Bedfordshire, nor with Everton-on-the-Hill in Liverpool …. nor its football team! Our Hampshire village comprises fewer than 1000 houses, the great majority of which date from the 1970s or later.
The name of the village has evolved from older ones such as; Iveletona, 1200-1299 but Ivelton recorded in 1272; Yevelton, 1346; Evelton, 1646-1810. We're fortunate that the spelling from the 1600s-1700s no longer applies ….. 'Evilton'.
Some people still referred to the village as 'Yelverton' as late as the year 1900. These old names explain the titles of Yeovilton House, Yeovilton Close and Yeovilton Place still found in the village today.
A neighbouring manor was called Efford. It was noted in the Domesday Book and still exists immediately to the east of Everton.
The photo to the left shows Swan Cottage, in the middle of Everton. It is one of the oldest buildings in the village. It is a thatched cottage typical of those in the New Forest, although there are only a handful in Everton itself. Swan Cottage is over 300 years old and was once the Post Office for Everton (c. 1870 – see map below).
What is unusual is to see the cottage in SNOW! Everton enjoys a balmy climate, protected by the Solent and the shelter afforded by the Isle of Wight to our south. As a result, freezing temperatures and snow are not a common sight here in the winter.
The village was little more than a scattering of a few houses and farm buildings for hundreds of years. Administratively, Everton is part of Hordle Parish. The current boundaries of the parish, which includes the villages of Hordle, Everton and Tiptoe, can be seen at the Parish Council website: Parts of the historic road that took travellers west from Lymington to Christchurch still passes through the village. However, a bypass of the A337 now takes all but local traffic along its southern border.
Everton is served by an excellent, friendly Post Office and Store (located in Wainsford Road). There is only one pub-restaurant in the village, The Crown Inn, but there is also the CIU affiliated Everton & Lymore Social Club next to The Crown.
The only church in the village is St Mary's in Old Christchurch Road. Everton was little more than a hamlet until less than 50 years ago, so no substantial historic church building has ever stood within the village bounds.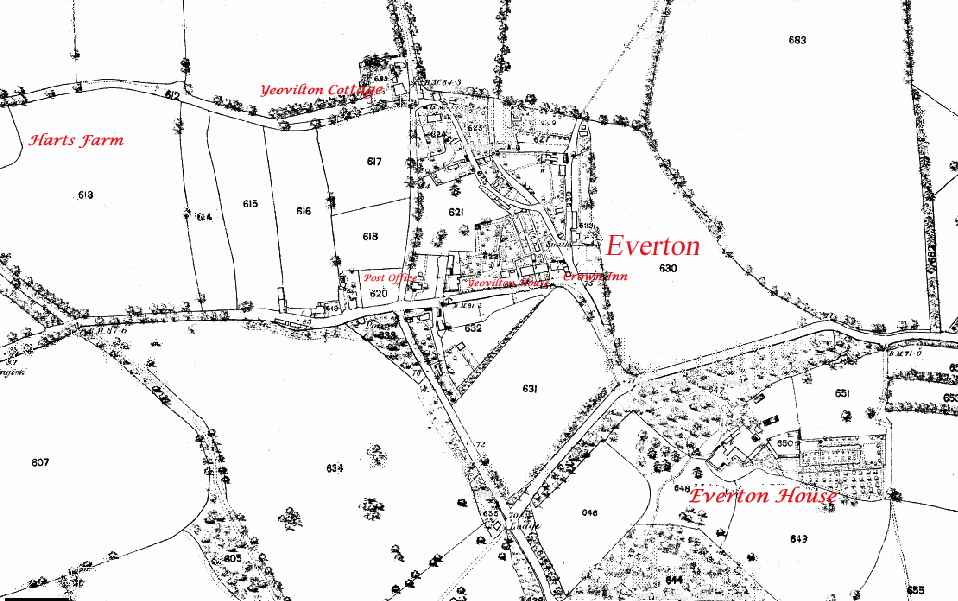 Map of Everton in 1868